On the Road Again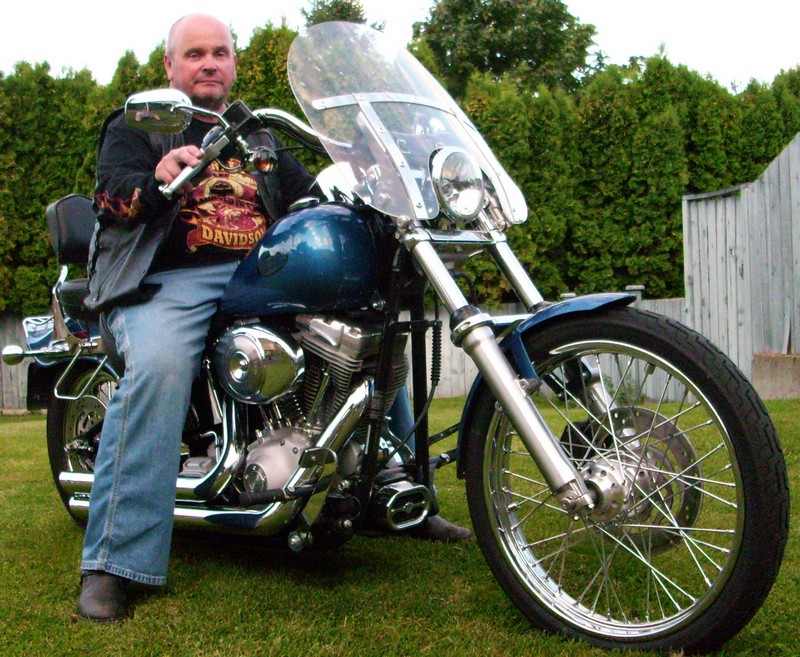 Ron McRae bought his first motorcycle in 1972, a Ducati 250 cc single. He soon gave up riding it after an accident caused a wound that took 40 stitches to close. He never rode again until his kids left home.

However, the itch to ride was never far away. Thirty-three years later in 2005, Ron bought his second motorcycle, this time a 1550 cc Harley Softail. He loves the feeling of freedom he gets from riding his motorcycle. Riders are in closer contact to their surroundings. Not only are you closer to the sights and sounds of the open road, but also the smells. "You can't smell a field of freshly cut hay in a car with the windows rolled up," he said.


Above:
Ron on his new Harley
photo: David Charbonneau
And people are so friendly when you ride a motorcycle. They wave as you travel down the road and when you stop, they approach you to talk. Strangers ask where you're from and where you're going - - something you would never experience if you drove up in a car.


On June 11, 2010, fate struck again. Ron and five other motorcyclists were riding between Lumby and Vernon. It was a perfect day and everyone was enjoying the ride. As Ron approached a left-hand turn in the road, a thin layer of gravel sent him sliding. His foot slipped off the peg shattering his left leg when it hit the ground. His bike ended up in the ditch but he kept flying. When he hit the ground, he broke four ribs.

Ron was taken by ambulance to Vernon's hospital where he stayed for three days. Ron's wife, Gizelle, picked him up and drove him back to Kamloops. The road to recuperation was long and painful. He was off work from Highland Valley Copper mine for seven and one-half months.

Now that he has healed, he doesn't regret a thing and has recently started riding again. Reflecting back on the day of the accident, he says "God looked down and decided I was too happy, so he flicked me off the road."

Riding is therapeutic. "You won't see a motorcycle parked in front of a psychiatrist's office," Ron laughs.

Ron and Gizelle moved to our neighbourhood in1990 from Ashcroft.