Ken Crockett,
World Masters' Athlete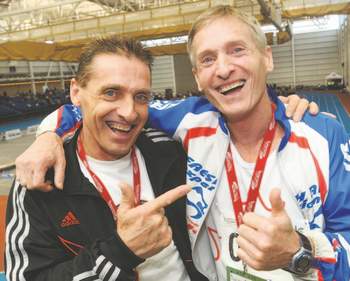 O

ur neighbour Ken (left) and his brother Dan competed in the World Masters Indoor Athletics Championships held March 1-6 in Kamloops. It was the first time that the event was held in North American.

About 1,400 athletes from 62 countries competed, 116 from Kamloops. Ages ranged from ages 35 to 96. The top five medal winners were:

United States 326
Canada 281
Germany 115
Great Britain 71
Australia 63
Good Sport


Ken is competitive but winning is not everything. Although he didn't win any medals, his goal was to compete and do his best. He was impressed with the high-level of competition of athletes around the world.

Ken has always wanted to compete against others his own age but usually he has to compete with younger athletes instead. He found that head-to-head competition he was looking for with athletes his own age at the Masters event. He was impressed with the caliber of competition from his peers.

"People our age are showing us a thing or two," Ken told the Kamloops Daily News.

The Crockett family have always played together. For years, Ken and his six siblings have fielded a team in Kelowna's Ski to Sea relay race.

Ken didn't hold back in any of the many events he competed in including the 60, 200 , and 400 meter dash, relay, long jump, triple jump, shot put, discus, javelin, the weight and hammer throw.

Often he was up against his brothers Dan and Ken but none of the brothers minded losing to each other.

"We always have fun," said Ken.



Photo courtesy of Kamloops Daily News